Increase formaldehyde production and efficiency within weeks.
Navigance finds opportunities to optimize the process right across your plant. Data-driven analytics and artificial intelligence unlock the potential in your operations. And world-class Navigance process and catalyst expertise helps you make the most of it. For optimization of formaldehyde process efficiency and profitability within weeks – and around the clock.
---
How Navigance works
At the heart of Navigance is a state-of-the-art machine learning and analytics. It analyses your production data in real time to offer 24/7 actionable advice for process control variable settings – all on a single dashboard.
About Navigance technology
That's backed by insights and optimization advice from Navigance's own process and catalyst experts. They'll stay close and work as your partner to help continuously to optimize your plant's performance.
Working with Navigance
---
See the benefits, fast.
Increase profits within weeks
by unleashing your plant's full potential.
Optimize with confidence
based on real-time recommendations.
Deploy fast
with a ready-to-go process base model we'll tailor to your needs.
Support your team
with time and expertise from Navigance.
Stay secure and in control
of your data and how you use it.
Partner with us
and keep your operation running at its best.
---
Take formaldehyde production further.

Navigance is a ready- to- go insolution for formaldehyde plants like yours. Use it to optimize production efficiency and deliver on the objectives that matter the most:
Process efficiency
Yield
Profit
Methanol cost
Formaldehyde output
---
Tailor Navigance to your needs.
Navigance suits all formaldehyde plants with various process technologies and configurations, including:
Pressurized and non-pressurized plants
Single, parallel or series reactor concepts
All reactor-cooling medium types and technologies
We'll configure our Navigance base solution to suit your specific setup, technology mix, process constraints and limitations.
---
Act with intelligence.
Navigance can find ways to optimize formaldehyde production by analyzing data from sensors at key points across your plant, including:
Mass or volume flows for major process streams
(such as methanol, process/recycled gas, process water and product)

Process stream compositions (such as oxygen concentration in the feed stream, or formaldehyde concentration in the product solution)

Temperatures (including those of the reactor, process streams and in the catalyst bed, etc.)
---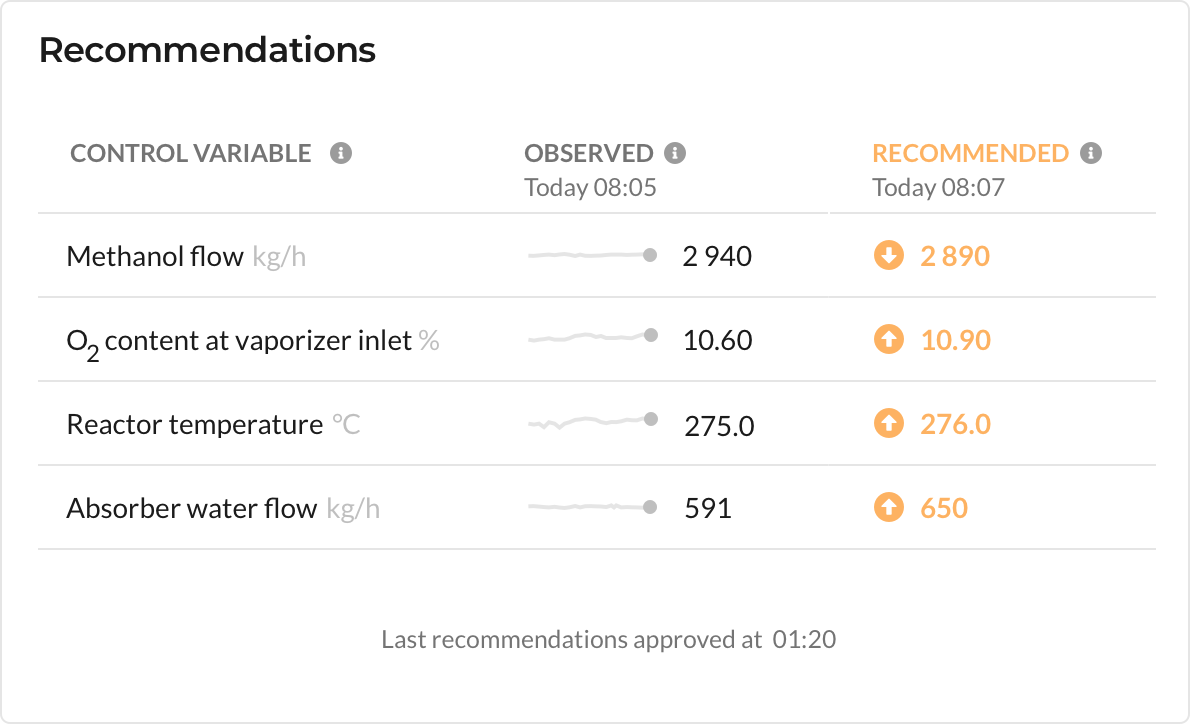 Refine any time.
Navigance recommends optimized settings for process variables you can actively control – directly or indirectly. These variables are customized to the specifics of your plant and formaldehyde process and can include:
Methanol flow
Recycled gas flow
Oxygen concentration
Heat transfer fluid temperature
Absorber water flow
---
Navigance for Methanol
Bring the same intelligent optimization and efficiency to your methanol production.
Navigance for Methanol is a ready-to-go solution that works with any technology license and catalyst.
---
It's time to optimize your operation.
Let's talk about your plant's setup and needs.
We'll tailor our Navigance base solution to suit.