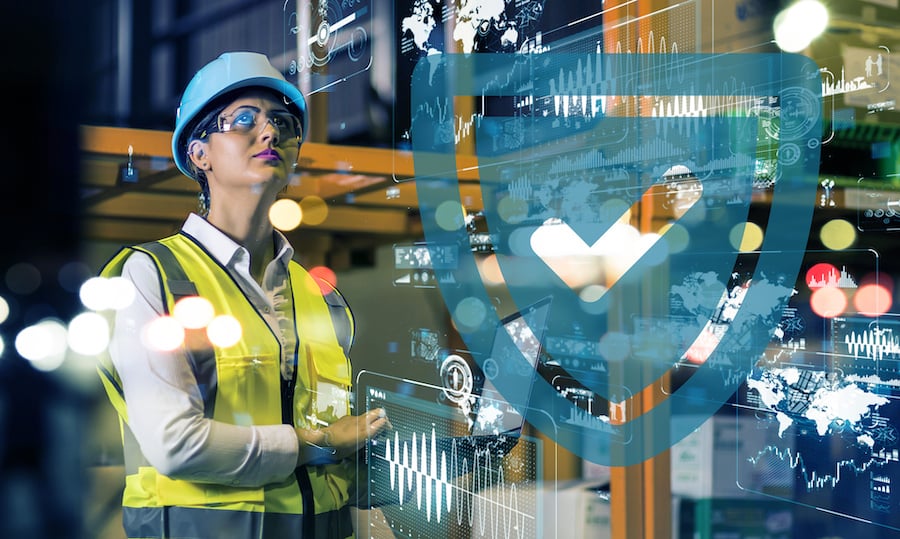 Optimize

with the
Optimization Engine
Keep hitting critical goals and KPIs around the clock. Our hybrid process models and industrial AI scan your plant data and deliver automatic, actionable recommendations for fine-tuning process control variables.
Take actions.

Optimize

with

confidence.
The Navigance Optimization Engine is cloud-based Software as a Service (SaaS) that delivers automated recommendations plus insights from our own experts to help you continuously optimize plant performance.
A dynamic, highly adaptable

hybrid model

of your chemical process

24/7 optimization recommendations in a custom web interface
+
Hybrid process models enhanced with machine learning scan the plant data in few minutes and find ways to optimize your chemical process. Read more about hybrid models and why they matter in our blog.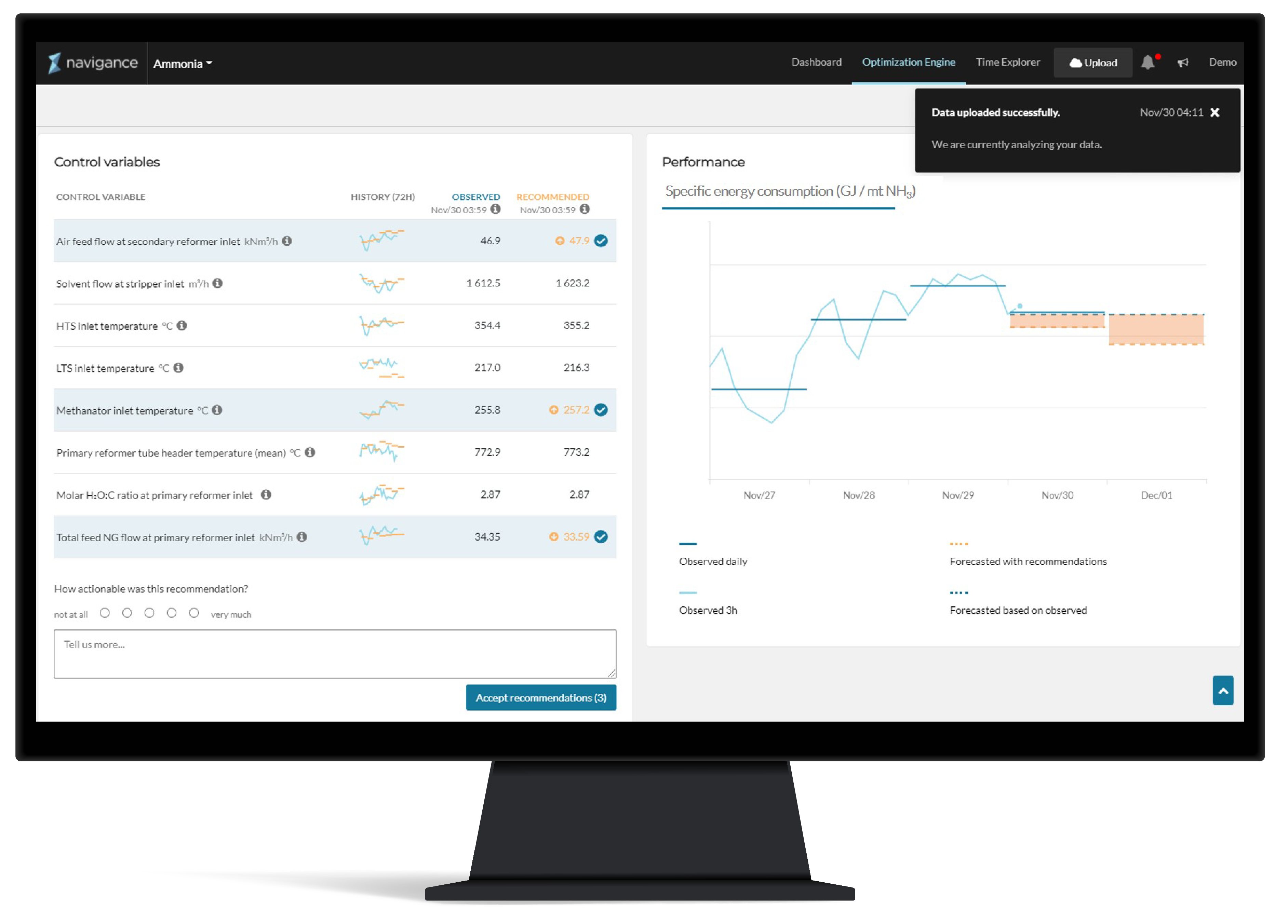 How the

Optimization Engine

benefits you
Find opportunities to optimize your chemical process automatically and continuously.
Optimize where it matters most
Select your optimization goals – from efficiency to output, energy consumption to cost of production.
We'll integrate them into a hybrid model of your plant and create a strategy for achieving them.
Skip the manual analysis
Don't waste hours analyzing your process data for ways to optimize.
The Navigance Optimization Engine does it for you, providing automatic recommendations you can follow with confidence.
Hit your goals continuously
Use its actionable advice to fine-tune your process control variables and keep hitting critical KPIs.
And adapt quickly to different scenarios and objectives, with high levels of flexibility built in.
See everything in one place
A single, intuitive dashboard shows your key process data and all recommended actions.
Customize it with the insights you need most. And share access securely with those who need it.
Free up your team's time
The Navigance Optimization Engine needs little in-house resource.
Our experts assist your team not only with planning and deployment of your solution, they provide ongoing advice and insights too.
Your data's always secure
We protect your sensitive data at every stage with ISO-certified, end-to end encryption.
That's reinforced with 24/7 threat monitoring and your own strict controls over who has access.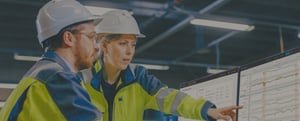 How the Navigance

Optimization Engine

works
Our cloud-based analytics tools and expert insights keep your chemical process running at its optimum. Here's how.
A hybrid model of your process enhanced with machine learning algorithms scans your data 24/7, learns its patterns, and spots ways to optimize.

It delivers automatic recommendations for fine tuning control variables in a secure online dashboard, viewable anywhere by anyone with access rights.

Your team can implement its advice with confidence – and our Navigance experts will offer additional insights to help you continuously optimize too.

Implementation
tailored to you
Optimizing should free up not tie up your team. Our experts implement it right, so you can enjoy the benefits.
We'll establish your digital readiness and optimization potential with a benefit assessment of your plant's specific setup and needs.

Next, we'll build a hybrid process model specific to your plant and its priorities, with adaptability build in to flex as needs change.

We'll train machine learning algorithms to work within and scan your process data for ways to optimize.

And we'll establish the secure data uploads needed to deliver near-real time analysis and optimization advice.

Ready. Set. Optimize.
Download your free implementation guide
Get the Navigance guide to implementing continuous process optimization – and take your chemical operations to the next level.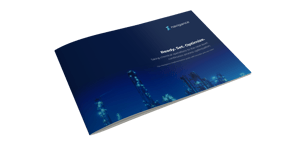 "Implementing the recommendations to our process has become a daily routine for our shift operators. They can take actions quickly since we use the Navigance dashboard on a screen right next to our DCS screens. Already, after a few weeks, we have noticed an improvement in our plant's performance."
"Through implementing the recommendations generated by the Optimization Engine I can continuously improve my plant's performance. Using the web-based interface provides me the flexibility to follow the plant operation closely and analyze process data easily, even when working from home."
Explore further. Discover more.
Handy tools, useful reads and upcoming events related to our Optimization Engine. Helping you to optimize your chemical process.